Buckets on the maple trees are one of the early signs of spring here in New Hampshire. Although Maple Sugaring Month is from March 10th through April 1st, ideal conditions with cold nights and warm days are what actually determine when the thawed sap runs. This year, the maple producers began tapping trees early, and many have already started to boil the sap to make maple syrup. The large, old, maple trees at the Bridges Inn are being tapped (shown below).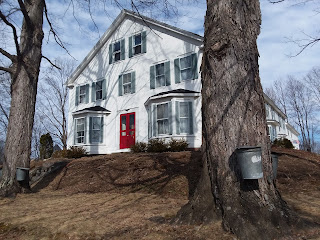 Maple buckets at the Bridges Inn
Our favorite grand maple tree
The Faulkners from Covered Bridge Maple Syrup House in West Swanzey gather the sap, which is a clear liquid that looks like water. Shown below is a bucket with a few inches of sap.
It takes a lot of sap to make syrup. In fact, the general rule of thumb is that it takes 40 gallons of maple sap to produce one gallon of maple syrup, which is dependent on the sugar content of the sap.
In addition to getting maple syrup from the Faulkners, we rely on
Crescendo Acres Farm
in Surry. Shown below are Keith (left) and Russ (right) Fiorey of Crescendo Acres, stopping for a pose while boiling sap in their sugar house.
Make a reservation
at the Bridges Inn for your March stay, mention this blog, and we'll give a 10% discount on any room. Of course, our scrumptious breakfast will be included. You'll also want to visit one of the local sugar houses to see and smell the experience of boiling sap.