History of Whitcomb House

This historic house, called the "Old Mansion" and "Stratton Place" over the years, was built circa 1792 by Richard Stratton, the wealthy owner of a cotton and woolen mill in the village of West Swanzey. Richard Stratton's son, John, married Susannah Whitcomb and they lived in the "Old Mansion." In 1841, the house was sold to Roswell Whitcomb. George E. Whitcomb later became the owner, and upon his death, the house was inherited by his children, Edna Clementina Whitcomb and George E. Whitcomb Jr., known as "Ellie."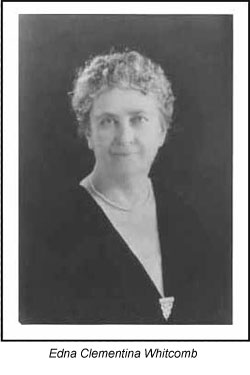 Over the years, the house was remodeled and the Whitcombs, who were successful in the lumber business, made numerous enhancements and added on to the original house. Edna lived in the house until her death in 1961 and the "Whitcomb House" name has lived on. From the 1960s onward, Whitcomb House had several owners, and became a Bed and Breakfast in 1996, when Cheryl and Richard Munson bought it, rezoned it, and started running it as a Bed and Breakfast, known as The Loafer Inn. In 2001, the Loafer Inn was sold to Charlotte Laurendeau and her husband, John Mulhollen, who renamed it "The Bridges Inn at Whitcomb House." Susan (Schuster) Karalekas bought the inn in 2006 and has made numerous improvements to the property both inside and out, making every effort to retain the historic charm.
​There are several historic buildings in the West Swanzey village. Whitcomb Hall, the building directly east on Main Street, was named for George E. Whitcomb, who contributed a large portion of the funds needed to build and furnish a new town hall for West Swanzey in 1916. Closed since 1988, Whitcomb Hall was named to the N.H. Register of Historic Places in early 2013, a designation which, along with community fundraising and efforts, lead to the town-owned building reopening as a community center in 2016, which was its 100th anniversary. The Town of Swanzey received the 2023 Preservation Achievement Award for the Whitcomb Hall preservation.
The adjacent house directly west, at 33 Main Street, was once owned by George E. Whitcomb Jr. Other notable historic buildings in West Swanzey include the Denman Thompson homestead, the Community Church, and the Stratton Memorial Library.
A short distance south of the Bridges Inn at Whitcomb House, on Route 10, is the Swanzey Historical Museum, a wonderful gem that provides rich information about the history of Swanzey, of which the Strattons and Whitcombs played a significant role.
Additional information about the Whitcomb House, Roswell Whitcomb, and the Whitcomb genealogy, traced back to the thirteenth century, can be found in The Whitcomb Family History, by Norman Whitcomb of Denver, Colorado, published in 2008. The book can be ordered by calling (303) 863-1427 or e-mailing Whitcombs2@aol.com.