About the Bridges Inn at Whitcomb House
This charming inn with Victorian touches is situated in the quaint and quiet village of West Swanzey, five miles from downtown Keene and a stone's throw from the historic Thompson Covered Bridge. The décor of this building is lovely with uniquely decorated rooms, tin ceiling, and many antiques. There are five beautifully decorated guest rooms, each with private bath, and each named for one of the nearby covered bridges for which the inn is named. All guest rooms are on the second floor; the house was built in 1792 and was not designed for accessibility.
There are many common areas for guests to enjoy, such as the double parlor, dining room, piano area, and in the warmer weather, the screened-in porch, and gazebo.
Our Innkeepers
Innkeepers, Susan and her husband Nick, are on hand to attend to guests' needs and keep the inn running smoothly.
In November 2006, Susan (Schuster) Karalekas bought the inn, fulfilling a long-held dream of owning a Bed and Breakfast. She has always enjoyed welcoming people into her home, preparing and serving food, and accommodating guests; for Susan, hospitality seems to be in her blood.
Susan's experience in the hospitality industry stems from being born into a family who owned restaurants in Maine during her childhood and working in restaurants and food service throughout her high school and college years. Extensive travel throughout the United States, Canada, Europe, the Caribbean and Central America, Thailand, and Australia has given her the opportunity to see the hospitality industry through the eyes of a tourist. She likes her B&B to offer the food, service, and experience that she likes to receive when she travels. She thoroughly enjoys being an innkeeper, chatting with guests from around the world, and suggesting attractions, restaurants, and activities that meet guests' particular needs and interests.
More than 220 years of history.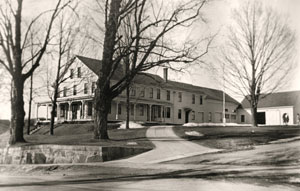 Whitcomb House, early 1900s
This historic house, called the "Old Mansion" and "Stratton Place" over the years, was built circa 1792 by Richard Stratton, the wealthy owner of a cotton and woolen mill in the village of West Swanzey. Richard Stratton's son, John, married Susannah Whitcomb and they lived in the "Old Mansion." In 1841, the house was sold to Roswell Whitcomb. George E. Whitcomb later became the owner, and upon his death, the house was inherited by his children, Edna Clementina Whitcomb and George E. Whitcomb Jr., known as "Ellie."