Our goal is to make you feel at home. Built in 1792, this quintessential inn serves as a comfortable home-away-from-home, repeatedly satisfying tourists, business travelers, students, people visiting family or friends, and other visitors.
Our room rates include a scrumptious, hot, bountiful breakfast each morning which our guests love. The breakfasts, along with our warm hospitality, the cleanliness of this charming, well-maintained inn, and various local attractions inspire guests to return year after year.
The décor of the inn is lovely, with period wallpaper, tin ceiling, and many antiques. You can enjoy the splendor of yesteryear with the amenities of today. There are five distinctively decorated guest rooms, each with modern, private bathroom, air conditioning (seasonal), WiFi, and cable TV. You can enjoy any of the comfortable common areas by yourselves or to mingle with other guests.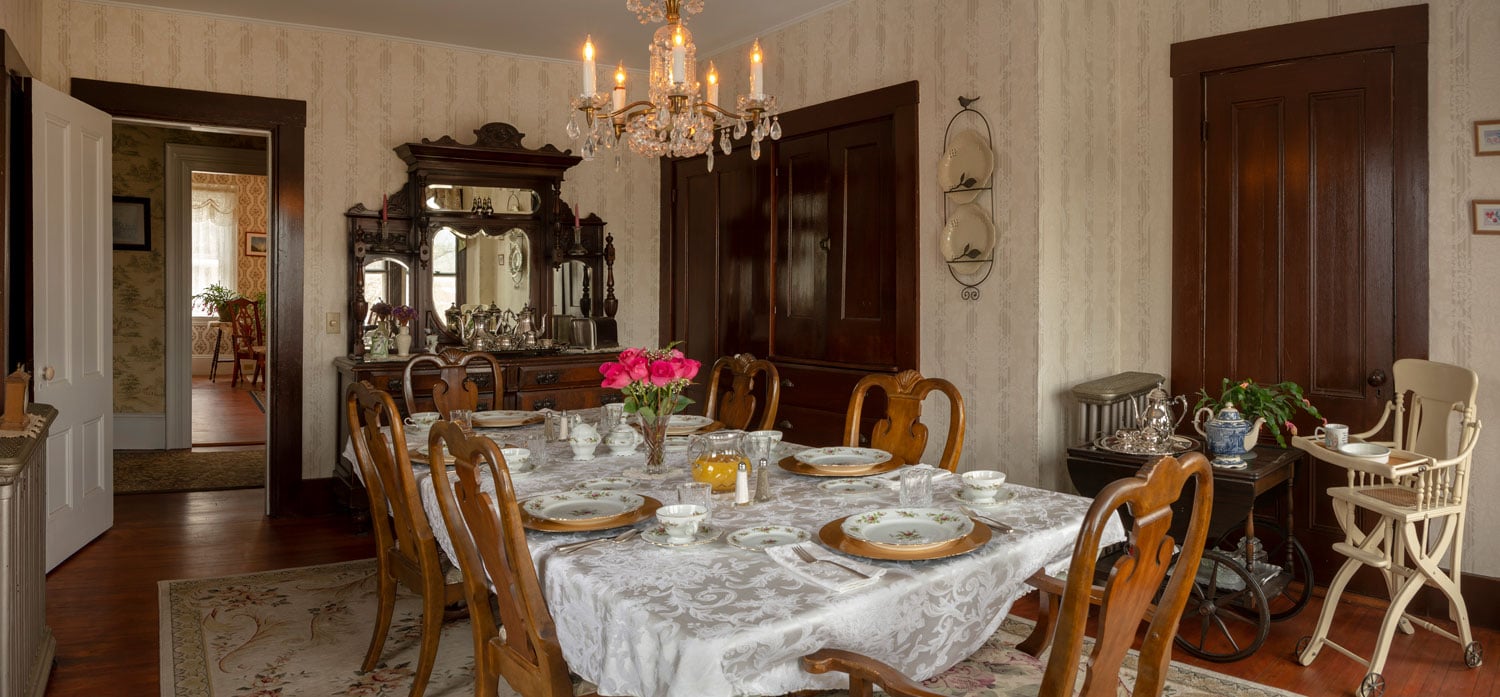 We're just five miles from Downtown Keene
Nestled in the beautiful Monadnock region, the Bridges Inn is near outdoor activities, dozens of unique restaurants, arts and cultural events, auction houses, antique shops, covered bridges, scenic countryside, and just minutes from downtown Keene.
In addition to all the nearby attractions, the innkeepers can help you plan day trips to many points in southern New Hampshire, central Massachusetts, and southeastern Vermont. From chocolate shops and breweries to museums; from historical sites to recreational sites, we've got you covered.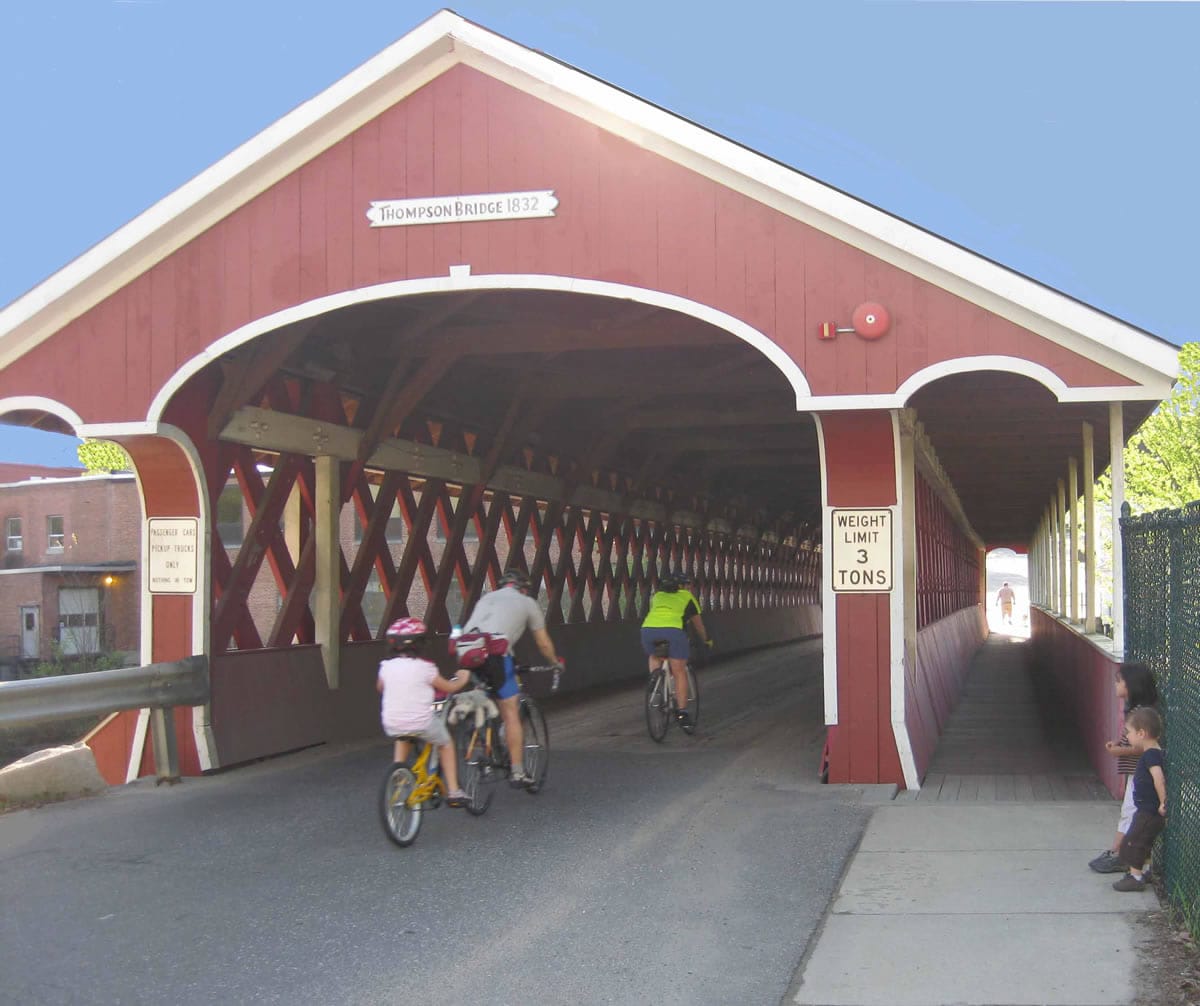 Each of our guest rooms (with private bath) is unique
Start your day off right
You are welcome to come and start your day in a pleasant and relaxed way at The Bridges Inn at Whitcomb House.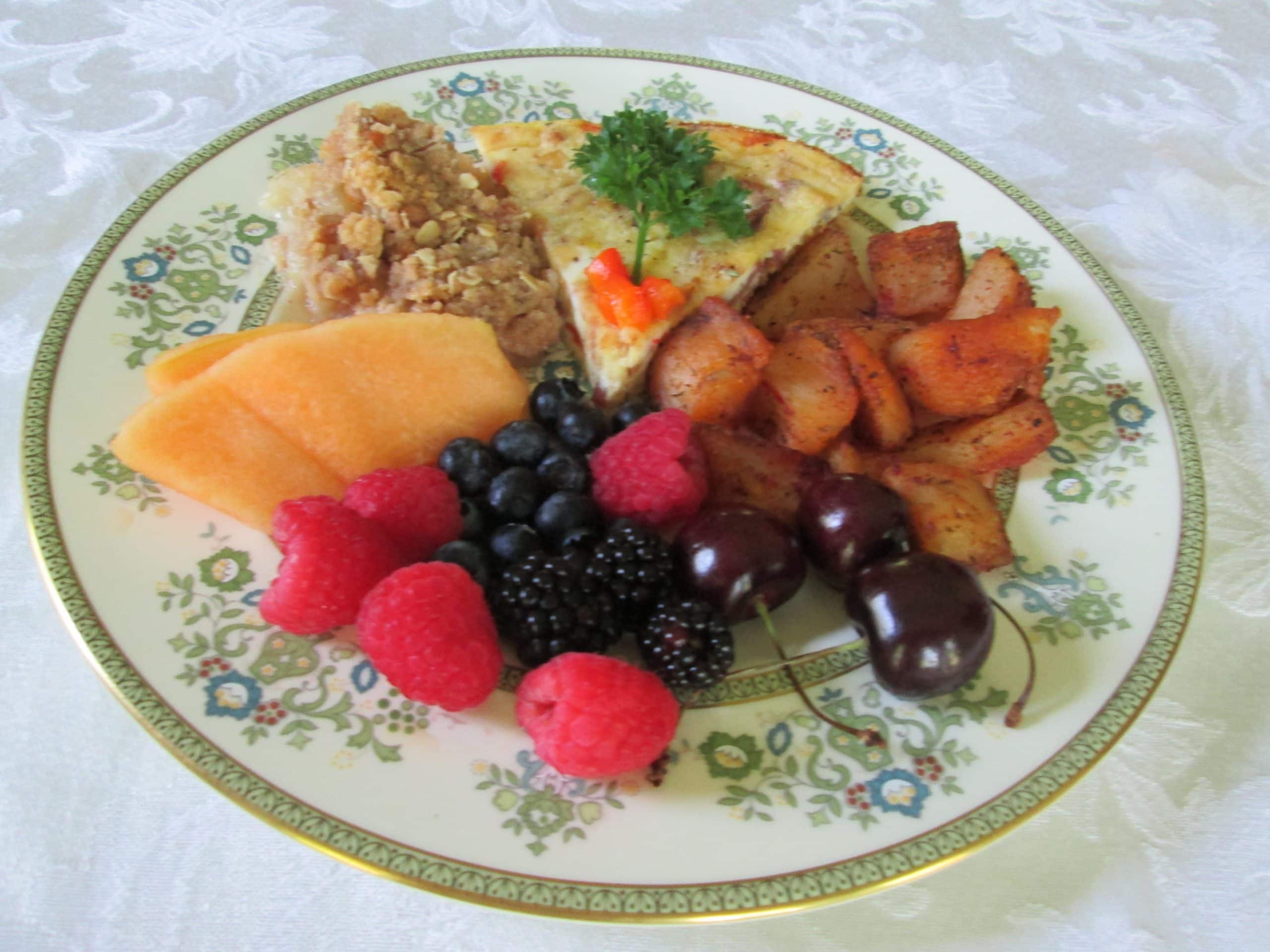 Begin your day with with a bountiful breakfast cooked fresh each morning.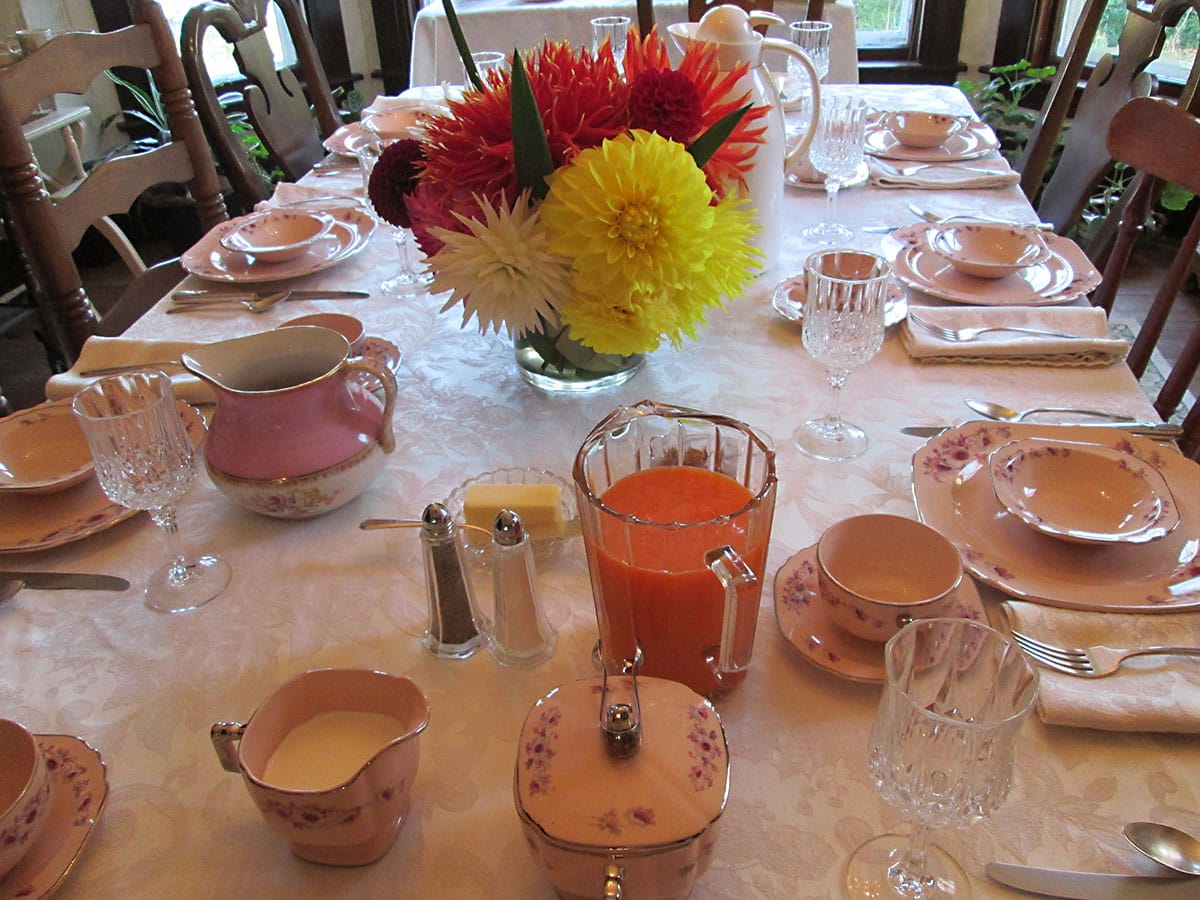 There's always something special about dining on fine china.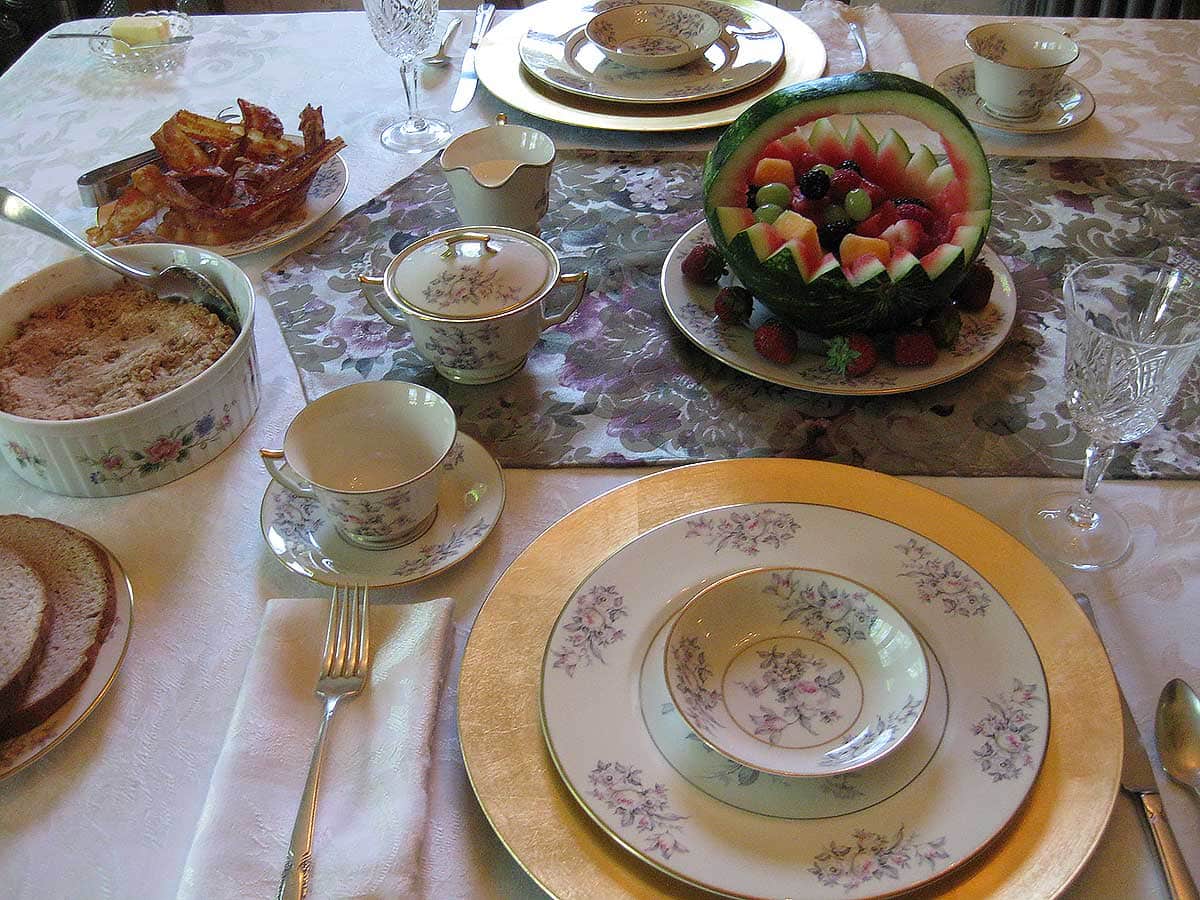 Our breakfasts generally include plenty of fresh fruit, and homemade bread or baked goods. 
Breakfast is typically served between 7:30 and 9:30 AM, determined the night before, based on the guests' needs and schedules. We also take guests' dietary requirements and preferences into consideration. We serve a scrumptious, multi-course breakfast in the formal dining room on bone china with sterling silver and linen tablecloth and napkins. Arrangements can be made for something to go for those who must eat outside of regular breakfast times.
We use many locally produced ingredients and products, such as local maple syrup, locally roasted coffee, and in season, fresh herbs and vegetables from our own garden and locally grown produce. Breakfast fare is abundant and is typically served buffet-style. In addition to plenty of fresh fruit, we serve baked goods such as homemade bread, muffins, scones, fruit breads, apple crisp, pancakes or waffles; an egg dish; a breakfast meat, such as sausages or bacon; and often potatoes and/or vegetable accompaniments.
What our guests are saying about us
Autumn in the Monadnock Region
The Labor Day weekend typically marks the end of summer, when some parks and recreational facilities close for the season, even though autumn doesn't officially begin until September 23rd. There are hints of foliage changes in the Monadnock Region and later in September and throughout October there are numerous fall festivals and activities. We are booking up fast, so if you want to experience autumn in the Monadnock Region, check our availability and make your reservation soon.
The Bridges Inn at Whitcomb House is proudly associated with: