The Town of Swanzey describes itself as the second largest community in Cheshire County with a total land area of 45 square miles, made up of five distinct villages: Swanzey Center, North Swanzey, East Swanzey, West Swanzey, and Westport. Scattered throughout the beautiful countryside of Swanzey are farms, historic covered bridges, bodies of water, trails, hills, and small mountains.
In the summertime, you can enjoy numerous activities such as historical sites, water fun, hiking, and entertainment.
Swanzey Historical Museum
Situated on Route 10 on the outskirts of the old mill village of West Swanzey is the Swanzey Historical Museum, whose mission is to collect and preserve the artifacts of culture and nature of Swanzey, that we may discover our place in the continuum of history. Built in 1987, the museum houses items such as books, papers, photographs, newspaper clippings, town reports, quilts, and fire-fighting apparatus. The museum (shown below) is open weekends from early June until Columbus Day weekend from 10:00 AM to 4:00 PM or by appointment by calling Jo Gregory at 603-352-7268 or Lee Dunham at 603-762-4008.
Covered Bridges
Beginning in the late 1700s, many covered bridges were built in New Hampshire, of which four still remain in Swanzey, all crossing the Ashuelot River or one of its branches. These wooden structures contributed to social and commercial development of the area. Now these covered bridges give you a taste of history and a sense of their charm.
Originally built in 1862 and rebuilt in 2001 after a fire in 1993, the Slate Covered Bridge is just off Route 10 in Westport.
Built in 1859 to replace the bridge constructed before 1771, the Cresson Covered Bridge (also known as Sawyer's Crossing), is a mile north of Route 32, coming from Swanzey Center.
Built in 1789, the Carlton Covered Bridge (also known as Carleton), is off Route 32, on Carlton Road, ½ mile from Swanzey Center.
Originally built in 1832, the Thompson Covered Bridge (also known as the West Swanzey bridge), is just off Route 10 in West Swanzey.
Water Fun
If you enjoy canoeing, kayaking, swimming, or fishing, Swanzey is the place for you!
You can enjoy swimming at the sandy beach at Richardson Park* at Swanzey Lake (shown below).
* Note that admission to Richardson Park is limited to Swanzey residents, taxpayers, or property owners, Town employees, guests lodging at Swanzey facilities, or others as approved by the Town. Open until Labor Day weekend.
Wilson Pond is great for canoeing, kayaking, swimming, and fishing.
The Ashuelot River, which weaves through Swanzey, provides many opportunities for water fun. There is public access to the Ashuelot River with parking, picnic tables, and more at the Sawyer's Crossing Covered Bridge and the Thompson Covered Bridge.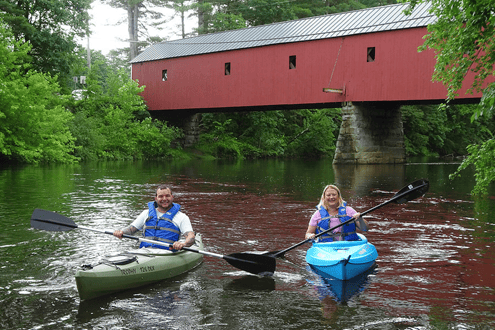 Open Space / Hiking / Biking
Swanzey is blessed with generous landowners who have permanently protected their land not only for wildlife, clean water, and open land for farming but also for our community to enjoy. Some of those conserved lands are a large part of what makes Swanzey so perfectly special, Tippin Rock/Hewes Hill, Carroll's Hill, Honey Hill, and others. The Town of Swanzey owns Mt. Caesar and Mt. Cresson—and has partnered with The Monadnock Conservancy, Swanzey Conservation Commission, Society for the Protection of NH Forests, The Nature Conservancy, and others to keep our town beautiful.
Plan your next adventure in Swanzey by visiting the Town's website for Hiking Trail information, where you'll find maps of trails for exciting hikes! The trails are rated from easy to more difficult. And some trail heads have paper maps: Mt. Cresson, Tippin Rock, Carroll's Hill, and Dickinson.
Enjoy one of the trails on Mount Caesar, some of which have magnificent views of Mount Monadnock.
The Monadnock Region has many miles of rail trails, many of which are in Swanzey. For details on the sections of the Ashuelot Rail Trail and the Cheshire Rail Trail that are in Swanzey, click here. For those who enjoy biking, portions of the Ashuelot and Cheshire Rail Trails are great for biking, particularly through the covered bridges. For information and map on the bike trails, click here.
Recreation / Entertainment
Adapted from a blog post by Susan Karalekas, originally written for the Greater Monadnock Collaborative (Regional Chamber of Commerce) and published in March 2023.