As I write this blog, autumn colors have not quite exploded, but within a few days, foliage colors will be bursting and there will be an abundance of uniquely fall things to do and see.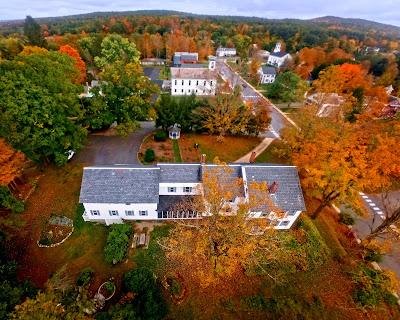 Aerial photo of the Bridges Inn (2021) by Jay Wold of Visual Balance Productions
Driving down side streets or anywhere in southwestern New Hampshire will be a treat.
You don't need a map or a recommended route because you will find colors everywhere. Early in the season, the most vivid colors are alongside swampy areas. Then the colors burst everywhere. Different varieties of deciduous trees change at different times, but the season always seems to go by quickly. The New Hampshire Division of Travel and Tourism Development has an online Fall FoliageTracker, which tracks the color by region.
You'll find a stay at the Bridges Inn at Whitcomb House enjoyable and there's an abundance of things to do in this region. 
Autumn at the Bridges Inn (a previous year)
Things to Do in the Monadnock Region
During Columbus Day weekend, October 8-10, the Fall Foliage Art Studio Tour gives you a chance to not only see some vibrant colors along the roads but also to visit artists' studios where you'll see some beautiful and colorful creations.  Check out the studios that will be open during the Columbus Day weekend and plan your route.
Alyson's Orchard in Walpole is magnificent at this time of year. You can pick your own apples or stop in their farm store where you'll find not only fresh apples but other local produce, products, apple pies, and gifts. Some days there are hot cider donuts from Pat's donut truck and some delicious pizza from Little Zoe's! From the orchard, there are beautiful views of the Connecticut River Valley and Vermont.
Photo by Alyson's Orchard
The Monadnock Table and Alyson's Orchard will be sponsoring the second annual Harvest Festival at Alyson's Orchard. Art, food, drinks, animals, games and more await you on Oct. 16, 10 a.m. – 4 p.m.
While you're in Walpole, you'll find excellent food at the Restaurant at Burdick's for French cuisine and pure deliciousness. But note that reservations are typically required. And if you're a chocolate lover, check out Burdick's Chocolate for some out-of-this-world chocolate confections. For casual dining or  take-out, you'll find pizzas, salad, Greek food, burgers, grinders, and much more at Diamond Pizza. And if you can't make it to these places this time, you'll be glad to know that they're open year-round.
One of our favorite places to dine is Papagallos Restaurant (on Route 12, at the Keene Swanzey border) which would be a great place to include in your fall foliage tour. In addition to serving delicious Italian food, pizza, seafood, steaks, desserts, and more, Papagallos is sensitive to gluten-free diets and other dietary needs.
Hiking, Walking, and Biking
Mount Monadnock is beautiful any time of the year, but hikers find Monadnock State Park glorious
in early fall. For those who don't want to climb the mountain, there are numerous trails at lower elevations. Information about trails up the mountain and around the Mountain
can be found on the Monadnock State Park website.
Autumn at Mount Monadnock, our region's gem
In addition to Monadnock State Park, you can find trails at a number of places in the Monadnock Region. Visiting any of these places you'll feel satisfied that you experienced fall in New Hampshire.
The Covered Bridges
From the Bridges Inn, you can tour the six local covered bridges in just over an hour (by car) by following our covered bridge loop directions. Although the covered bridges are beautiful throughout the year, there's something special about the fall glow. Our favorite Thompson Covered Bridge is visible from the front yard of the inn. A trip to the Monadnock Region wouldn't be complete without seeing the covered bridges. (Shown below, the Thompson Covered Bridge from fall 2021.)
Other Fall Festivals and Events in the Monadnock Region
We hope you enjoy your autumn adventures in the Monadnock Region during this very special time of year. However, if you can't get here to see the autumn foliage, many of the activities mentioned in this blog – such as the restaurants and covered bridges – are here for your enjoyment any
time of the year.