When guests come to the Bridges Inn at Whitcomb House, they don't just experience our bountiful breakfasts and warm hospitality, they also get a taste of New Hampshire. We use many locally made products in our breakfasts and throughout the inn. We also sell many products in our small gift shop, allowing guests to take remembrances home with them.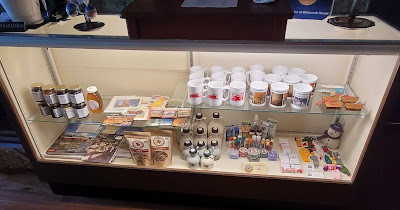 Our gift shop / showcase is visible at the entrance of the inn
We'll start with the food products. We have been getting preserves, elderberry syrup, and mustard from a local organic farm, Cheshire Garden in Winchester, NH, for many years. Their products are delicious, made of fresh ingredients, and not too sweet. Our guests love the fruit preserves – peach, Damson plum, and many varieties of berries.
Shown are some of Cheshire Garden's tasty preserves
Plenty of maple syrup plus gluten-free granola
Recently we began stocking our guest bathrooms with Sunflower Herbal Soap, locally made in small batches in Surry, NH. Scents include golden ginger oat, lemongrass, lavender, herb garden, sweet mint, and orange cinnamon. Our guests enjoyed the soap in the bathrooms so much that we decided to offer it for sale in our gift shop in both small and large bars.