With the seemingly never-ending pandemic and few guests at the inn, I have not been inspired to write blogs. But suddenly, with a burst of spring and a surge in reservations, it's time for an update on what is happening in the region. Flowers are always a warm welcome when approaching the inn.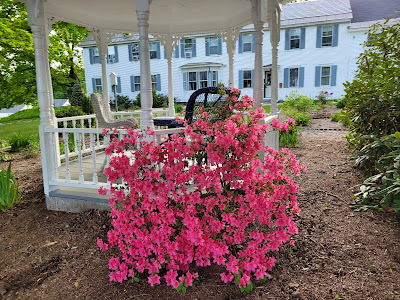 Azaleas in bloom near the gazebo
Occupancy at the inn was sparse over the winter months; so we used the time to make improvements to the building, such as interior painting to spruce things up a bit.
We have a new sign at the entrance to our parking lot to greet you. Not than anyone ever missed our Bridges Inn sign, but the old, chipped sign certainly needed replacing. The new sign even matches the colors of the house, much of which was painted last summer.
We bought some new TVs, so now all guest rooms have TVs, ready for streaming.
We put effort into landscaping, coupled with help from Mother Nature, resulting in some beautiful grounds. In early spring, we enjoyed forsythia at the rear of the parking lot, daffodils in the front yard, and the magnolia tree in full bloom on the side, near the parking lot.
Then came the lilacs, irises, azaleas, and peonies. Fortunately, our gardens were planned so that something is in bloom throughout the summer.
In addition to all the flowers, spring seems to have brought many visitors to the Monadnock
Region. While life has not returned to normal, more businesses are open and there are fewer restrictions. To keep visitors and residents as safe and healthy as possible, we are providing some information below to help you plan your trip.
New Hampshire has seen

COVID numbers decrease

, due to more and more people being vaccinated, social distancing, and wearing masks. Although the governor lifted NH's mask mandate as of April 16th and the City of Keene's face covering ordinance ends on June 1st, residents and visitors are encouraged to follow CDC guidelines for safety. Also, individual
businesses might have policies for wearing masks in their establishments.
If coming from outside the area, please see NH COVID-19 Travel Guidance and information for out-of-state visitors.
Any NH State Park that normally charges an entrance fee will be open via reservation only this year. It's best to call ahead before venturing out.
Some businesses are currently operating with restricted hours or capacity, so it is a good idea to call ahead of time and make a reservation if needed. Most restaurants offer outdoor dining and take-out service as well as safe indoor dining, following CDC and State guidelines. Some restaurants have limited seating or limited hours.
Not all programs and attractions may be open at this time, so it's a good idea to be informed before making a trip. Even during a normal (non-pandemic) year, some
attractions do not open until after Memorial Day.
If spring has gotten you thinking about a get-away to the Monadnock Region, please check us out.  We can be reached at (603) 357-6624 via our website (or make an online reservation), or by email. We are vaccinated and taking extra precautions during to ensure your safety and ours.
If you visit during the warmer season, you'll probably be greeted by beautiful flowers.