The pandemic continued on, guests were few and far between, and we continued to make progress here at the Bridges Inn. Our recent blog, Progress during a Pandemic (Part 1 of 2) discussed some of the projects we worked on, with the spotlight on the redesigned Bridges Inn website.
We also made many improvements to the property, both inside and outside.
Painting
During the colder months, we painted some interior areas, such as woodwork/molding and closets. Then when the weather improved, we focused on exterior painting. Much of the exterior is vinyl siding which is essentially maintenance-free. But the north section of the building, at the garage end, really needed painting. After a lot of scraping and gallons of
paint, our casa blanca against the deep blue sky is striking!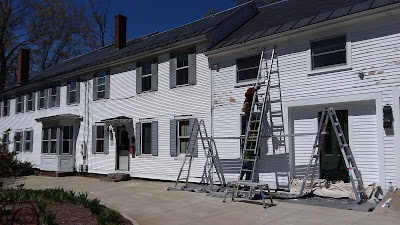 New chandeliers
The double parlor is graced with new chandeliers! This was a huge project both because of the difficulty finding lighting fixtures that are suitable for the décor of a house built in 1792 and because of the electrical updating required. Also, the ceiling is not exceptionally high which meant the
chandeliers could not hang too low. But we finally found the right chandeliers.
Our electrician has been here many times over the years to update the electrical wiring, which meant replacing knob and tube wiring, and in some cases doing a bit of detective work to locate the wiring behind the plaster and find the path to the circuit box. Thanks to his skill, the installed chandeliers are a beautiful enhancement, adding charm to the double parlor! 
Yard and Garden
Warmer weather also gave us a chance to work on the grounds. Our biggest accomplishments were the landscaping and the gardens. We have carefully selected flowering plants so that something is in bloom at all times from late spring until fall. For example, we have daffodils, magnolias, lilacs, rhododendrons, peonies, lilies, irises, hosta, roses, hydrangeas, daisies, morning glories, phlox, and sunflowers, to name a few (plus some that I don't know that they are called). Our guests love sitting out front in the gazebo or out back in the screened-in porch.
Currently, we are enjoying our burst of sunflowers and phlox, some of which become our centerpiece at the breakfast table.
And last but not least are the blueberries, vegetables, and herbs. Our herbs this year consisted of chives, marjoram, oregano, mint, basil, dill, cilantro, and rosemary. The basil
was plentiful enough to make many batches of pesto, which we freeze for use in breakfasts.
We've had cucumbers, tomatoes, zucchini, pea pods, and more. Whenever possible, we integrate the fresh items into breakfast, and whatever we don't grow here, we get from farmers markets or local farm stands. Summer 2020 has been a real treat in terms of fresh edibles!
Whether you're a regular guest or simply thinking about a trip to southwest New Hampshire, please check us out. We can be reached at (603) 357-6624, via our website, or by email. We are taking extra precautions during the pandemic to ensure your safety and ours. If you check out our reviews, you'll see that others have greatly enjoyed their stay here.