I think we can all agree that 2020 has been a strange year. No matter where we live and what occupation or stage of our life we're in, day-to-day routines have been greatly disrupted, from how we shop and where we can go, to the people we can see. Travel was one of the industries that came to a screeching halt during the pandemic. From mid-March until mid-June, the Bridges Inn at Whitcomb House had no B&B guests and, of course, we didn't know how long this stay-at-home order would last. Other than going out for food and essentials, we stayed home during that period.
But we didn't remain idle. Realizing we were fairly powerless over events and circumstances outside our immediate environment, we decided to take control of some of the things we can do at the inn. We used the time to spruce up the inn, do extra cleaning (such as windows and curtains), and do some of the projects that we never seemed to find time to do, such as updating
our website. This blog focuses on the updated website.
We had been working with a web developer long before the pandemic but never found the time to provide the content and direction needed to wrap it up. In the spring, we delved into the changes and released the new website. Because of the extent of the changes, it really was an "overhaul" instead of a mere update, but the web address remains the same: www.bridgesinn.com.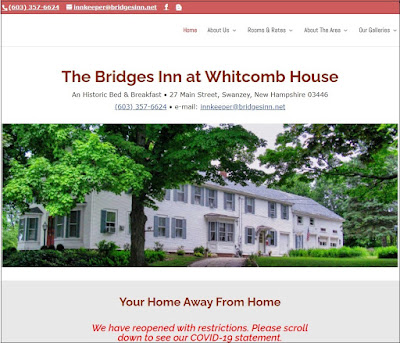 Perhaps the biggest change was making the website responsive, optimized to fit any size device. That means whether you access our website from your phone or a desktop computer with a large screen, our website will be usable. We also improved the content, enhanced the usability / user experience, added new photos, and added functionality. The new design is one that we can update and maintain ourselves, which means that the changes will be ongoing instead of waiting to submit a batch of changes to the developer.
There are five general categories:
·     Home page:
General information about the inn
General information about the area
Our breakfasts
Special
COVID-19 message
·    About Us:
How to contact us
About the inn
About the innkeepers
The inn's history
How to find us – driving directions from many major cities and airports
Guest reviews
·     Rooms & Rates:
Guest rooms, including amenities, rates, and photos of the rooms
Check Availability by room and by date
Buy gift certificates
Our policies
Make a Reservation*
* Note that during COVID-19, we request that you check availability and make
reservations by calling (603) 357-6624
  Check out our rooms and amenities!

Food & Drink:
Places to Eat
Wine, Beer, and Spirits
Desserts and Sweets
      Things to Do:
Outdoor Activities
Area Attractions
Arts, Culture, Education, Heritage
Shopping
      Suggested Day Trips:
Within an hour's drive
Within 1.5 hours drive
Within 2 hours drive
Covered Bridges: details of the local covered bridges plus directions for the covered bridges loop
·     Photo Gallery: Inside the Inn, Outside the Inn, and Breakfast at the Inn
As the pandemic lingers on, we are happy to say that we are accepting guests, with minor changes to adapt to the current situation. We hope you'll find our new website helpful in planning your
trip. You can select nearby activities, attractions, and places to eat before you even get here.
Our new website will give you a glimpse of what to expect. Call for a reservation (603-357-6624) so you can see for yourselves what we have to offer.