Until I bought the Bridges Inn at Whitcomb House over 13 years ago, I had little interest in antiques. I had always lived in a newer home but moving into the fully furnished inn, built in 1792, chock full of antiques and vintage items, gave me new reason to be interested in antiques. Over the years, antiquing has become a passion.
As much as I like antiques, I'm definitely not a connoisseur, because I primarily judge the value of a piece by such factors as how well it will go in the room, the condition of the piece, and whether I like it, not by how much I could sell it for some day. Sometimes functionality matters but some beautiful antiques are meant to be observed, like a museum piece, and not used. My collection of antiques might be considered eclectic.
My favorite piece that I have acquired thus far is the four-poster king bed frame, with detailed woodwork and inlaid wood in the headboard, that graces the Thompson Bridge Room. I bought this from the Cheshire Curio Shop on Route 12 in Swanzey, at the Cheshire Fairgrounds. I have since bought many items there, such as a bureau with mirror for the Coombs Bridge Room.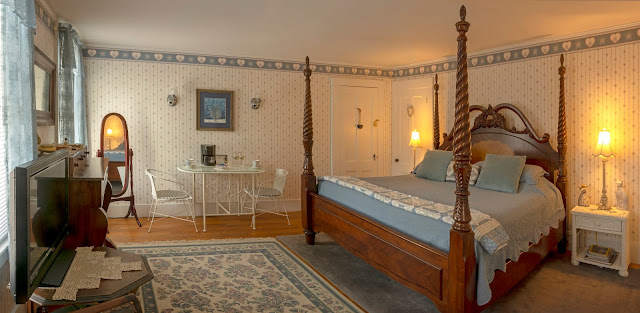 Four-poster king bed in the Thompson Bridge Room
I love this king bed frame, not because of its value as an antique, but because it looks like it was made for the Thompson Bridge Room. If you think about it, there's probably no such thing as an antique king bed frame – it's an antique reproduction – because "historically most beds were 'twins' or 'doubles' but in the mid-1940s larger mattresses were introduced by manufacturers. These were later standardized as 'queen' and 'king', and first made a significant impact on the market in the 1950s and 60s." [Bed sizes/North America,Wikipedia]
In our first-floor bathroom, we have a functional antique tin tub built into a wooden enclosure. It came with the house and I do not know how long it has been here – I'm guessing it was installed in the mid 1800s but I have no information on its history other than being told it's "the oldest tin tub in Swanzey." I suspect that's true and that it's likely the only tin tub in Swanzey. What I do know is that people love filling it with hot water and bubble bath (and sometimes rose petals) and
soaking in there. A glass of wine is a nice accompaniment, too.
Functional antique tin tub
Another little gem that came with the inn when I bought it was this antique ice cream maker, patented in 1910. While I've never attempted to make ice cream using this hand-cranked ice cream maker, I appreciate such antiques as a reminder that it wasn't until the 1940s that refrigerator and
freezer units became common in homes, and as technology advanced over the years, ice cream became readily available commercially.
Hand-cranked Ice Cream Maker 
Inside the ice cream maker says, "Pat. June 21, 1910 Made in USA"
The dining room might be my favorite room in terms of antiques. Not only did the inn come with several sets of antique and vintage china that we use daily for our B&B breakfasts, but also an antique tea wagon (shown below, on the left of the highchair) and an antique sideboard buffet with
mirror (shown below). A few years ago, I bought an antique wooden highchair and stroller combination chair with cane-woven seat (shown below, on right) from Colony Antiques in Keene, where I have found many treasures over the years.
And there's also our old Christmas cactus that came with the inn when I bought it. The giant Christmas cactus is about 75 years old now which I think qualifies it as an antique. I do not have
a green thumb, so it is a bit of a miracle that after over 13 years of living at the Bridges Inn, the Christmas cactus is thriving. When a branch falls off, I just stick it in dirt and water it; it forms roots and the offspring become beautiful, blooming plants. We have given away numerous plants over the years. More information about this amazing plant can be found on
our blog
.
The giant Christmas cactus (rear) and the offspring in a separate pot (front)
To observe the antiques and vintage items at the Bridges Inn, please visit us. You can reserve by booking direct at https://www.bridgesinn.com/reservations.html (you can Check Availability first) or by calling us at 603-357-6624. You'll find treasures throughout the inn, some vintage and some antique, such as doll carriages (prams), saddle shoes and old clothes, a handmade wool quilt, marble-top bureau with mirror (in Coombs Bridge Room), and a Magee Oxford wood stove which is now used as our our "desk" and rack card display. 
The Monadnock Region has numerous antique shops. If you're interested in antiquing, refer to the list below for some of our favorite antique shops in the area:
Bowerbird & Friends

, Peterborough, 18th through 20th century antiques and furnishings, a selection of new accessories and décor; a unique collection of casual farmhouse style furnishings, ironstone, glassware, linens, uncommon accessories,

re-purposed & painted furniture, glassware, jewelry, rare books and ephemera, illustrated children's books, and unique and hard-to-find trees, shrubs and perennials (Spring through Fall)

Cheshire Curio Shop

, Swanzey, offering unique and special items, from furniture to antiques to new items and artwork; often offering collections from estate sales;

 

new acquisitions posted on Facebook weekly

The Simple Nest

, Keene, offering antiques, furniture, home furnishings, timeless décor, dwelling essentials, new and vintage finds, gifts, jewelry, and linens
About an hour from the Bridges Inn at Whitcomb House is one of southern New Hampshire's largest multi-dealer antique shops that antique lovers won't want to miss. 
New Hampshire Antiques Coop
, Milford, NH, offers period furniture,
fine art, country antiques, porcelain, silver, jewelry, coins, vintage,
collectibles, books, mid-century modern, affordable home furnishings and
distinctive décor; featuring more than 200 dealers and 2,000 consignors selling
quality merchandise in showcases, room settings, booths, display spaces, and
fine art gallery.