Aaahh, the joy of waking up to the smell of Chef David's homemade bread and his delectable breakfast is one of the reasons our guests keep coming back to the Bridges Inn! We take pride in our acclaimed
breakfasts, which are bountiful, varied, healthful, and tasty; and the presentation is part of the experience. Many first-time guests choose the Bridges Inn because our guests rave about breakfast in their online reviews.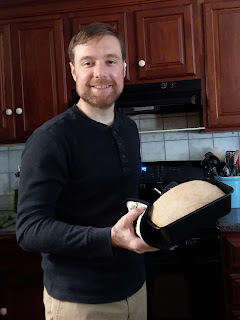 Chef David taking a loaf of bread out of the oven
We can never have too much of David's homemade bread
The word "scrumptious" comes up in many of the reviews of our multi-course breakfast, which we serve in the formal dining room on bone china with sterling silver and cloth/linen tablecloth and napkins. We have enough sets of china that you'd have to stay here quite a few days to see the
same china twice. The abundant breakfast fare is typically served buffet-style with fresh flowers as a centerpiece.
Dining room table set for breakfast with a beautiful floral arrangement
Dining room table set for breakfast with dahlias as centerpiece
Coffee and tea are available 24/7 at the Bridges Inn, and guests typically come down early for freshly brewed coffee. Plus there are plenty of fruit juices from which to choose. (Shown above, freshly pressed carrot juice, sometimes served in addition to orange juice, tomato juice, and cranberry juice.)
Breakfast is typically served between 7:30 and 9:30 AM, determined the night before, based on the guests' needs/schedules. We also take guests' dietary requirements and preferences into consideration. Arrangements can be made for something to go for those who must eat outside of regular breakfast times.
We use many locally produced ingredients and products, such as local maple syrup, locally roasted coffee, and in season, fresh vegetables and herbs from our own garden and locally grown produce. We always serve plenty of fresh fruit, frequently in Susan's carved watermelon basket, which is a favorite. We also make the best of seasonal fruit by making fruit breads, apple crisp, blueberry muffins, cherry or peach cobbler, and more.
David's apple crisp (on left) and Susan's carved watermelon basket
Freshly made cherry cobbler
We always serve at least one egg dish, such as a quiche or frittata, and provide eggs-to-order on request. Chef David comes up with some unique offerings, such as using breaded baked eggplant slices instead of an English muffin for the base for something like eggs Benedict. He might use large portabella mushrooms as the "pie crust" for a quiche or other egg dish. Shown below are breaded baked eggplant slices topped with a poached egg, roasted red peppers and spinach, a homemade cream sauce, and melted cheese.
Breaded, baked eggplant slices topped with poached egg, roasted
red peppers and spinach in a cream sauce, and melted cheese
We typically serve at least one breakfast meat, such as sausages, bacon, or ham. We find that many people do not make bacon at home so they are delighted to wake up to the smell of bacon.
Plus, we often serve potatoes and/or vegetable accompaniments.
Our menus vary from day to day, and if you're here for several days, we'll come up with a different menu every day.
If you've never stayed at the Bridges Inn at Whitcomb House, give us a try. Our guests tell us our breakfasts are phenomenal!