If you're looking to cool off or have some fun at the beach without having to drive very far, take advantage of the lakes and ponds in the Monadnock Region.
The closest to the Bridges Inn, and our personal favorite, is Richardson Park, on Swanzey Lake.
Open from Memorial Day through Labor Day, daily, 10 a.m. to 8 p.m. It's a shady beach with a nice view and water quality is generally considered good. There's no charge to get in and plenty of parking. Shown below, Richardson Park is for Swanzey residents only, including guests of the Bridges Inn.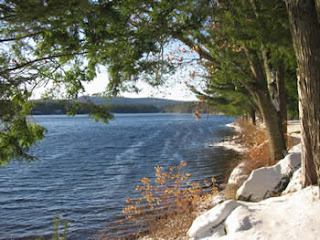 Otter Brook Lake Recreation Area
in Keene and Roxbury and 
Surry Mountain Lake Recreation Area
 in Surry (shown below) are operated by the Army Corps of Engineers. Both are picturesque, family-friendly places for swimming, p
icnicking, and canoeing. There's a sandy beach, roped-off swimming area and plenty of grassy areas to set up games throughout each park. There are also picnic tables and rest rooms.
On Spofford Lake in Chesterfield is Wares Grove is on Route 9A. The water is shallow for a long way out and is great for young children. The large sandy beach has a grassy area in the shade with picnic tables, a concession stand and a volleyball court, basketball, tetherball, and a swing set. There are bathrooms and grills. There are resident and non-resident fees.
For more information about swimming holes in the Monadnock region, click here.
In addition to directing Bridges Inn guests to places to swim, we can help you plan other activities to fit your particular interests.