The southwestern New Hampshire area is full of interesting and unique things to see and do.  As a lifelong resident of the region, I am still finding places that are new to me.  The other weekend, a guest who was staying at the Bridges Inn informed me about Fruitlands in Harvard, Massachusetts.  I had never heard of it before so I went to see it for myself, along with the Innkeeper's grandchildren. It was great.
Harvard is about an hour from the Inn.  The Fruitlands comprises 210 acres, with pristine views and hiking trails.  There is also a very nice café and gift shop.  However, the reason to go there is to see the preservation of extinct cultural heritage.  The past comes to life.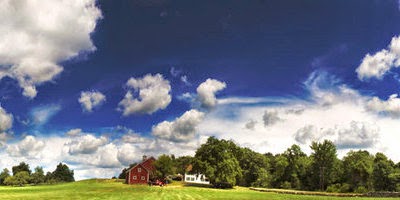 There are five separate museums on site.  One is dedicated to Miss Clara Endicott Sears.  She was a wealthy Boston socialite who founded Fruitlands.  In the early nineteen hundreds, she discovered the Alcott farmhouse, tucked away on a corner of her property in Harvard.  The Alcotts were connected to the local transcendentalist movement.  The father is known for education reform and one of his daughters, Lisa May, is a famous author.
Harvard, MA was the location of a vibrant shaker community.  When the community closed in 1917, Miss Sears had the office building, constructed in 1796, moved on site.  Another museum tells the shaker story, shown below, complete with artifacts.  They were a hard working people and produced most everything that they needed, with a surplus to sell, such as seeds or furniture.
Other on-site museums feature historic artwork, including 19th century portraits and Hudson River School landscape paintings.  A striking image was Thomas Cole's Dream of Arcadia. Another notable painting was a work by Albert Bierstadt (shown below).In the seventeenth and eighteenth centuries, America was seen as primeval forest, a raw material to be formed by Europeans, and called the new Arcadia.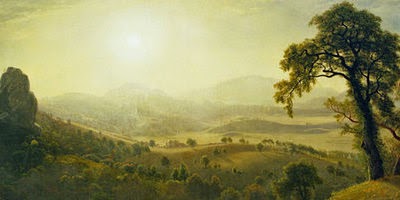 Perhaps the highlight of Fruitlands is the collection of Native American artifacts and history.  We learned about the numerous Algonquin tribes of New England and their 1676 battle against the British colonists, called King Phillip's War. There's also a reproduction of a traditional house and also inside of the museum trying out the hands-on activities.  The collection is not limited to New England natives, as it includes items from throughout North America.
Fruitlands, which is geared towards families, has plenty of activities and things for the children.  .  There is even another museum featuring a local artist who has work on display.  We encourage people to take the time to explore this little-known treasure trove of history.
Note: The above photos are from the Fruitlands' website.