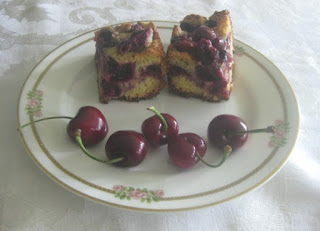 Now that it's June, cherries are available at the grocery store.  We made them into a cobbler this morning, and the cherry cobbler received rave reviews by the breakfast guests at the Bridges Inn at Whitcomb House.  Here is a basic cobbler recipe (adapted from a King Arthur cookbook):
Grease a deep non-metal baking dish. (I use an 8″ x 8″ baking dish).
Preheat oven to 375 degrees.
Soften 2 tablespoons of butter.
Mix 1 cup flour, 1 teaspoon baking powder, and ½ teaspoon salt. Set aside.
Remove the cherry pits, chop cherries, and measure about 1 cup of chopped cherries. Set aside.
With whisk or electric mixer, vigorously beat 2 eggs with 1 cup sugar.
Add any flavors, such as splash of vanilla, lemon zest, almond extract, or cinnamon.
Add 2 tablespoons milk and the softened butter, mix well.
Sprinkle half of the flour mixture over wet ingredients. Mix lightly with spoon/spatula. Combine the rest of the flour mixture, being careful not to over-mix.
Pour batter into prepared dish.
Cover with cherries.
Bake for almost one hour. The center may seem a little raw, but it will solidify once it has cooled down.